Put your donations
in your pocket
Reserve your spot in a matter of seconds, see how you're doing with your reward points, and don't miss the latest news with our mobile application.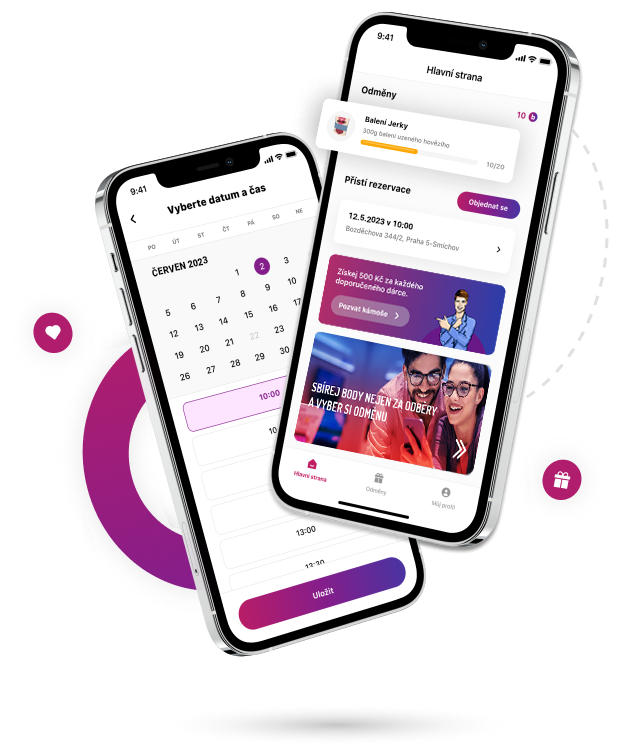 Advantages of the mobile app
Enjoy your donor benefits to the fullest. What does the app bring you?



Easy reservations
 in just seconds

You're a couple of clicks away from your donation. Choose the location and the day and time of your next visit. If the timing of the appointment turns out not to work for you, you can easily change it later.




Get 500 CZK for each 
donor you bring in

Make a donor recommendation through the application and receive 500 CZK when the person becomes our donor. In the app, you can see how many friends who you've recommended have begun to donate and how much has been paid.




Choose your 
reward

The application displays the number of points you have earned in our loyalty program. Set the rewards goal you want to reach and in a simple graph, you can monitor how close you're getting to your goal.
How to register in the app?
All you need in order to register is your donor number and the last 4 digits of your birth number.
In the first field, enter the last 6 digits of your donor number. If you need any assistance at all, just ask at reception.
In the second field, enter the last 4 digits of your birth number.
Registration from a new device requires the entry of a code that will be sent to you by SMS. That's it!